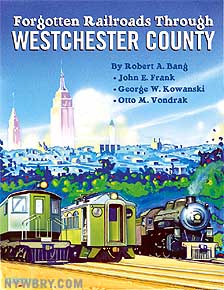 THE BEST OF WESTCHESTER RAILROADING HISTORY ALL IN ONE GREAT VOLUME!
"An extensive, essential Northeast rail title!"
—Boston Street Railway Assoc.
"The chapters on the New York Central's Putnam Division, as well as the New Haven's New York, Westchester, & Boston, likewise, break new ground… Great book, highly recommended—especially for traction modelers." —O Scale Trains
"The combination of an enjoyable and informative text with clear, well-reproduced photographs, plenty of maps, and reprints of old news clippings and timetables give the reader a real feel for the railroads that once served the area." —Railroad Model Craftsman
Chapter One
New York Central's Putnam Division
Through the 1860s, railroads experienced unprecedented growth and raced to connect existing markets and predict new ones, often at the expense of hapless investors. By the 1870s, railroad service was fairly well established in rural Westchester County. The Hudson River Railroad provided service along its namesake shoreline, and the New York & Harlem provided a parallel inland route extending towards Albany and points beyond. Even the nascent New York, New Haven & Hartford was establishing itself along the Sound Shore towards Boston. It was in this already competitive environment that the seeds for the Putnam Division would be planted…
Chapter Two
New York Central's Getty Square Branch
The three-mile-long Getty Square Branch of the New York Central's Putnam Division ran from a junction at Van Cortlandt Park in The Bronx to Getty Square in Yonkers. Running from bucolic VanCortland Park through the developing suburban neighborhoods of Yonkers, the branch served a growing population that demanded access to New York City. Shuttling passengers to the west side of Manhattan at 155th Street, travellers had easy access to the elevated rapid transit lines to get them to work and shopping. The history of the Getty Square Branch, early rapid transit lines and the New York & Northern (which would later become NYC's Putnam Division) are intertwined...
Chapter Three
The New Haven Electrification Project
The New York, New Haven & Hartford Railroad was established in 1872, and continued to expand its reach throughout lower New England. At the beginning of the twentieth century, the New Haven's mainlines stretched from New York to Boston. Predecessor New York & New Haven reached New York City by obtaining trackage rights from a connection at Woodlawn over the New York & Harlem Railroad in 1848. The lines feeding into New York saw increased traffic when the New York Central & Hudson River Railroad established a connection with the New York & Harlem in 1871. As the result of a horrific wreck in the Park Avenue Tunnels that was attributed to smoke conditions obscuring a red signal, the City of New York passed a law that forbade the use of steam engines within the city limits by 1908. This greatly affected the New York Central's and the New Haven's ability to run trains into and out of Manhattan. By 1908, trains would have to be powered by something other than steam. Electricity was the answer….
Chapter Four
The New York, Westchester & Boston Railway
You don't have to look very far to see the effects of an increased metropolitan population on Westchester County's overstressed highway system. Additional mass transit could help, but where would you build a new transit line in an area with the highest concentration of development? Take a walk in some of the settled neighborhoods in White Plains, Scarsdale, Mount Vernon and New Rochelle, and you might see homeowners raking leaves and cleaning up their yards. Many of them may drag those leaves and clippings behind their house to a swampy gully that has filled with the accumulations of the last seventy years. Most homeowners have no idea that this gully was once the manicured high-speed right of way of the New York, Westchester & Boston Railway. With beautiful concrete stations that resembled mansions and modern electric trains offering service on twenty-minute headways, the "Westchester" was an engineering marvel of its time. Unfortunately for the citizens of lower Westchester County, the railroad that was built for success was destined for failure…
Chapter Five
False Starts, Forgotten and Finished
Westchester's railroad network was well established by the end of the Civil War. What of the many railroad schemes that never made it past the daydreaming stage? And what about those alternate routes that actually began construction, yet disappeared without a trace when funds ran dry? Westchester County was home to many ambitious and redundant schemes to connect one city with another. There were no less than three separate plans to connect White Plains with Danbury and The Bronx. More than one railroad sought to reach Ridgefield first, so as to cut off competition reaching for New England. A high-speed electric trolley was planned to connect Danbury with Golden's Bridge. Even the modern New York, Westchester & Boston had plans for extensions and branches that were on the books at the start of construction, but never made it to fruition. To round out this chapter, we'll also take a look at some of the allied trolley and bus companies acquired and controlled by the railroads over the years…

INCLUDING: New York, Housatonic & Northern; New York & Portchester, Westchester Northern, Danbury & Harlem Traction Co.; New York & Stamford Railway; Westchester Street Railway; Hudson Suspension Bridge & New England Railroad; Ridgefield & New York; Danbury & Portchester; New York & Croton River; Rye Lake Railroad; New York & Eastern; Peekskill & Carmel Railroad, and many others.