All sales temporarily suspended. Please check back for updates.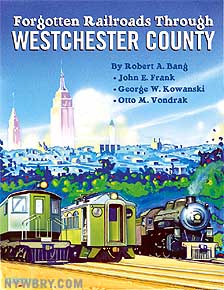 Forgotten Railroads Through Westchester County
2008 • 174 pages • Hardcover
$35.00
Published in 2008, this all-new volume co-authored by Robert A. Bang, John E. Frank, George W. Kowanski, and Otto M. Vondrak explores all the forgotten railways of Westchester County! This book explores New York Central's Putnam Division and Getty Square Branch; the New York, Westchester & Boston Railway, the New Haven's pioneering main line electrification program, as well as some of the long-forgotten ghost railroads and trolley lines of Westchester County. Featuring a beautiful commissioned cover illustration by the immensely talented Mitch Markovitz. Click for details
---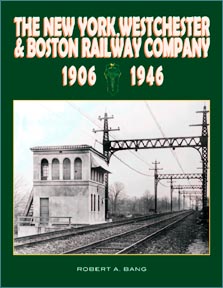 New York, Westchester & Boston Railway Company: 1906-1946
by Robert A. Bang
2004 • 177 pages • Hardcover
OUT OF PRINT
There's no last train on The Westchester! Published in 2004, this book contains many photographs, maps, diagrams, and news clippings never before collected in a single volume! This 177 page hardcover book tells the story of a forgotten 21-mile electric suburban commuter line connecting lower Westchester and the Bronx. This book is currently out of print, but we are working on producing an updated Print-on-Demand version. Check back for updates!
---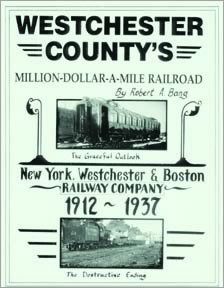 Westchester's Million-Dollar-a-Mile Railroad
Robert A. Bang
1987 • 62 pages • Softbound
$14.95
Robert Bang's first book about the New York, Westchester & Boston Railway contains many rare photographs documenting the construction, operation, and eventual dismantling of this once great transportation system. Includes many "before and after" photos comparing scenes along the route of The Westchester.