5 New Broad St
Port Chester, New York
Port Chester was the last station constructed on the Port Chester Extension, opening on December 7, 1929. It was also the last station built new by the New York, Westchester & Boston Railway. The station consisted of a single island platform serving two tracks, plus a terminal headhouse that contained a ticket office, waiting room, and retail shops. A connection to the New York, New Haven & Hartford was available by leaving the system and walking across the street to their separate station facility. There was no physical connection to the New Haven at this point.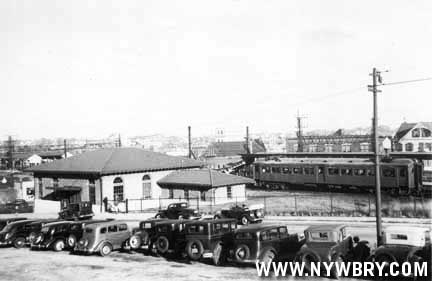 Regular passenger train service ended on October 31, 1937. The terminal headhouse is located on the corner of Westchester Avenue and New Broad Street, and has served many functions over the years, including as a used car dealership. Currently the station headhouse is home to the Church of the Living God. The platform and trackway area has since been built upon.
Connecting Services (Additional Fare Required):
With NYNH&H: Connection available with train service to Grand Central and Connecticut via New Rochelle.
With County Transportation Co.: Connection available with motor coaches to Greenwich, Cos Cob, Riverdale, and Stamford.